JULIE HAUKE, 1825-1895 – THE PRINCESS OF BATTENBERG
Grandmother of Earl Mountbatten, great grandmother of Prince Philip and great-great-great grandmother of Felipe VI of Spain.
Julie Therese Salomea Hauke was born in 1825, a younger child of Johann Moritz Hauke, a Polish general in the service of Tsar Nicholas I who controlled a part of Poland at the time.  The son of a schoolmaster at the Warsaw Lyceum, Hauke became Deputy Minister of War and was created a Polish Count by the Tsar in 1829, but was killed in a rebellion of 1830.
His wife Sophie died soon after and his children became wards of the Tsar. All the Count's children were entitled to use title 'count' or 'countess' but had no royal status. Julie Hauke (note not with the aristocratic 'von' as is often written) had a good education at the Smolny Institute for Noble Maidens in St Petersburg and eventually came to Court as a maid-of-honour.
Julie Hauke aged about 15
When Princess Marie of Hesse went to Russia to marry the Tsarevich Alexander she was only just 16 and was accompanied by her brother Prince Alexander of Hesse, who after the marriage in 1841 was allowed to stay in Russia, was awarded a massive annual pension and made a colonel, even though he was still only 18 and had done nothing to earn either. The Tsar was never very fond of him, but he remained at Court spending the best part of the next ten years living the life of a, sometimes rather dissolute, playboy.
Julie Hauke became maid-of-honour to Alexander's sister Marie, and on occasion passed notes between him and his latest love interest. However one day he recorded in his diary 'Julie Hauke is looking lovely'. When she became pregnant by him in 1851 he did not abandon her, but the scandal of a prince of a ruling German royal family marrying a commoner was enormous and they had to flee Russia in shame. He was 28 and she 26.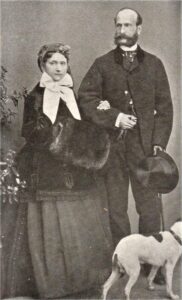 Julie and her husband Alexander of Hesse early in their marriage
His morganatic marriage meant Julie and their five children could not take Alexander's title and, although he could keep his royal title of His Grand Ducal Highness Prince Alexander of Hesse, it cost him his place in the Hessian succession. For the sake of the children his family gave Julie the courtesy title Countess of Battenberg that would include them, upgraded to Her Serene Highness the Princess of Battenberg in 1858, but, being of lower status than a Royal Highness, she was never truly accepted into royal circles – except by Queen Victoria.
For details of a short family history commissioned from me by Romsey Abbey where Earl Mountbatten is interred, see Queens-Haven Publications at www.queens-haven.co.uk/books